COVID-19 UPDATE
During this time we are still accepting hair donations, the support of our fundraisisers is more important now than it ever has been and we thank you for standing with us. If you have any questions please contact the Hair with Heart team on 1300 209 420 and we'd be happy to assist.
Hannah

Wig Grants

Hannah has Alopecia Areata and was granted a suction wig. Hannah loves her wig and wears it with pride during her netball matches and when she's on stage dancing, singing or acting.
Mia

Individual Grants

Mia is autistic and has Asperger's Syndrome. She needed a quiet space, to retreat from the world when she feels overwhelmed. Thanks to the support of people like yourself, Variety funded a cubby house for Mia: a place to call her own.
Chop
Commit to chopping your hair, set the date and get ready to help give kids a fair go.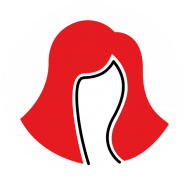 Wigs
Your hair will be made into a wig for someone who has lost their hair due to a long-term medical condition.
Fundraise
Rally the support of friends and family to help you on your Hair with Heart journey, and raise money for kids in need.
Kids
Money raised will help kids living with disability, chronic illness and disadvantage.
Step 1
Is your hair ready for the big chop?
We are chuffed that you want to help others but we do have some guidelines.
If your hair is too short or dyed, read more about why we're unable to accept it and where we recommend you donate it to.
Friends and family can help support.
It's simple to get started with your fundraising! Pick a page name. Post a picture. Write a little story about why you're donating your hair. And that's it!
Thinking bigger? Why not get your school or work involved? We've got lots of tips and tools to get you started here.
Make your big chop count.
Ask a hairdresser or even a friend or family member to chop your hair.
Make sure you've got the instructions on hand.
And don't forget to take some before and after photos, or why not share a live video of your chop? #hairwithheart
Donate your long locks.
With your long locks chopped, the last step is to donate them to Variety.
Complete your Hair Donation form and pop it in the post along with your ponytails.

111,712
Kids impacted by Variety last year

200
Different medical conditions were supported

4,537
Amazing people fundraising

29,900
People have donated their hair
Be inspired by others like you

BRONTE, NSW
My nan suggested I look at hair donation because she is a Nurse and knows how much it would mean to someone else. I've always had long hair but I can always grow it back. Some people don't have that p...

SOPHIE, QLD
I have been wanting to donate my hair for a long time now and it finally was long enough. It makes me happy to know that my hair will bring a smile to someone else who needs hair more than me.

CHARLI, VIC
When I heard people had lost their hair it made me feel sad for them. I felt bad because I had very long hair and they had none, so I decided I wanted to give them some of my hair.

CHIRATHI, QLD
I love to give. I give away clothes, toys and school supplies that I have in spare. So my mom encouraged me to grow my hair for donation. I am so happy to donate my hair for anyone who is in need of i...
Sharmila Karki just donated

$20

Dhinithi just donated

$52.20

Laurel Dhu just donated

$20.88

Anonymous just donated

$40

Lots of love Nan & Grandad just donated

$52.20

Lachie&Mackayla Hickson just donated

$10.44

Anonymous just donated

$104.40

Eliza Souter-Robertson just donated

$52.20

Vineet Patel just donated

$31.32

Anonymous just donated

$20

Roslyn O'Farrell just donated

$15

Emma Celentano just donated

$20.88

Tara just donated

$31.32

Georgia just donated

$31.32

The Turner Family just donated

$31.32

Jordan Collyer just donated

$10.44

The Gambino Family just donated

$52.20

Jessica, Taylor and Addie Drew just donated

$20.88

Jane Lamont just donated

$20.88

Jammo Pip just donated

$52.20