I'm chopping my hair and need your help!
I have made the decision to make a difference by cutting and donating my hair to be made into a wig for someone who has lost their hair due to a medical condition.
I'll be chopping off 35.5cm on 23rd November 2021.
Wigs cost families up to $6,000, lasting 1-2 years, meaning families can spend tens of thousands of dollars on the purchase of wigs throughout a child's youth. By making a donation to Variety - the Children's Charity, you can help provide a wig or other vital equipment to a child in need. Thank you for helping kids in need.
My Updates
Big Chop Day is here!!
Tuesday 23rd Nov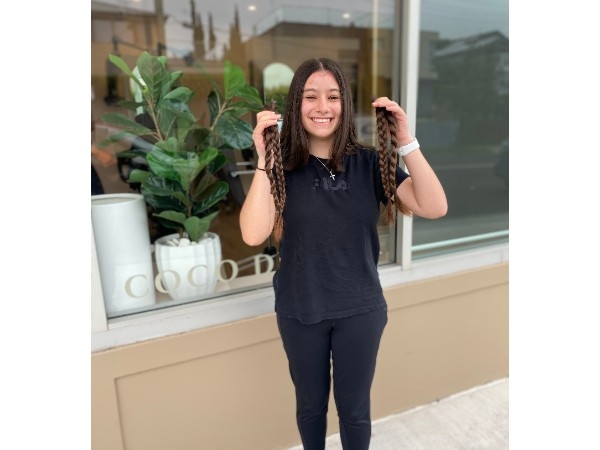 The day has finally come! 💇🏻‍♀️Thank you to all my sponsors. ❤️ Shout out to Earl and Katie Evans from Shaw and Partners Financial Services and Peter and Eva Theochari at Coco de Luma, South Coogee. My hair will be safely on its way to Variety - the Children's Charity very soon. 😁😘
Share
Thank you!
Saturday 20th Nov
Thank you to everyone who has donated so far, it really means a lot to me and so many others ❤️Only 3 more days until the big chop! 💇🏻‍♀️ 😆
Share
Thanks for all the support
Shaw And Partners
Tas
George
Krystiana, Luke, Anastasi, Alexandra And Stelios Fermanis
Michael Tsouroutis
Holly Negas
Greg And Elena Gregory
Andriana Skarparis
Sheqer Gjonpalaj
Peter & Eleni Skarparis
Nicola And Harris Chryso
Mary-ellen
Don And Kathleen Stewart
Irene Stathopoulos
Florence Christou
Eva & Peter Theochari
George Karipidis
Kirian Andreou
Vicky Sotirios
Nick J
Andrea Waghorn
Maria Skarparis
Sarahjane And Ben Rosen
Ms Felton
Margie Graham
Nicola Skouteris
Visser, Dorian
Andrie Skarparis
Mia
Christine Yannakis
Florence
Ms Lamour
Reesey Ling
Luca Hill
Ariana Fermanis
Anastasi Fermanis